Restore Hope Oils
Regular price
$30.90 USD
Sale price
$27.00 USD
Unit price
per
Sale
Sold out
The Anti-Microbial Duo is a collection of essential oils (Clove and Blood Orange) that are known to help purify the air from pathogens when diffused. Both of these essential oils are also known to strengthen the immune system when applied topically or inhaled. Both of these essential oils do not need to be used at the same time, but rather can be helpful for different situations.
At Restore Hope Oils we love to diffuse them together for an air purifying effect. This can be helpful to protect from temporary illness.
Possible Diffuser Combination Suggestion:
Clove Bud- 2 drops
Blood Orange - 8 drops
The Anti-Microbial Duo contains the following:
We have listed the details of all essential oils included in this duo so you can get an idea of how they may assist you individually or collectively.
More Details
A favorite Restore Hope Oils oil because of its amazing scent and capacity to help defend and strengthen the immune system from invaders. A warming oil with abilities to support many key organs and systems of the body.
Cautions
Always dilute with Restore Hope Oils Fractionated Coconut Oil because of skin sensitivity and irritation.

This is considered a hot oil and should not be used with small children.
Key Benefits
Digestive Support, Cleansing, Brain Function, Analgesic, Anti-infectious, Anti-fungal, Circulation, Warming, Antioxidant (highest ORAC or antioxidant measurement of any oil or food)
Similar to Sweet Orange with a deeper richer aroma Blood Orange offers a great companion for those stressful days in the office or at home. A wonderfully sweet and tangy scent that cleanses the mind's emotions with the first inhale of the aroma.
Cautions
Avoid UV rays for at least 12 hours after applying topically.

Always dilute when using. 
Key Benefits
Uplifting, Emotional Balance, Lymphatic Support, Digestive Aid, Antioxidant, Mental Fatigue, Stress Relief, Antioxidant
These essential oils may be unavailable at certain times of the year. 
For more uses on the specific oils in this duo click on the links below:
Share
View full details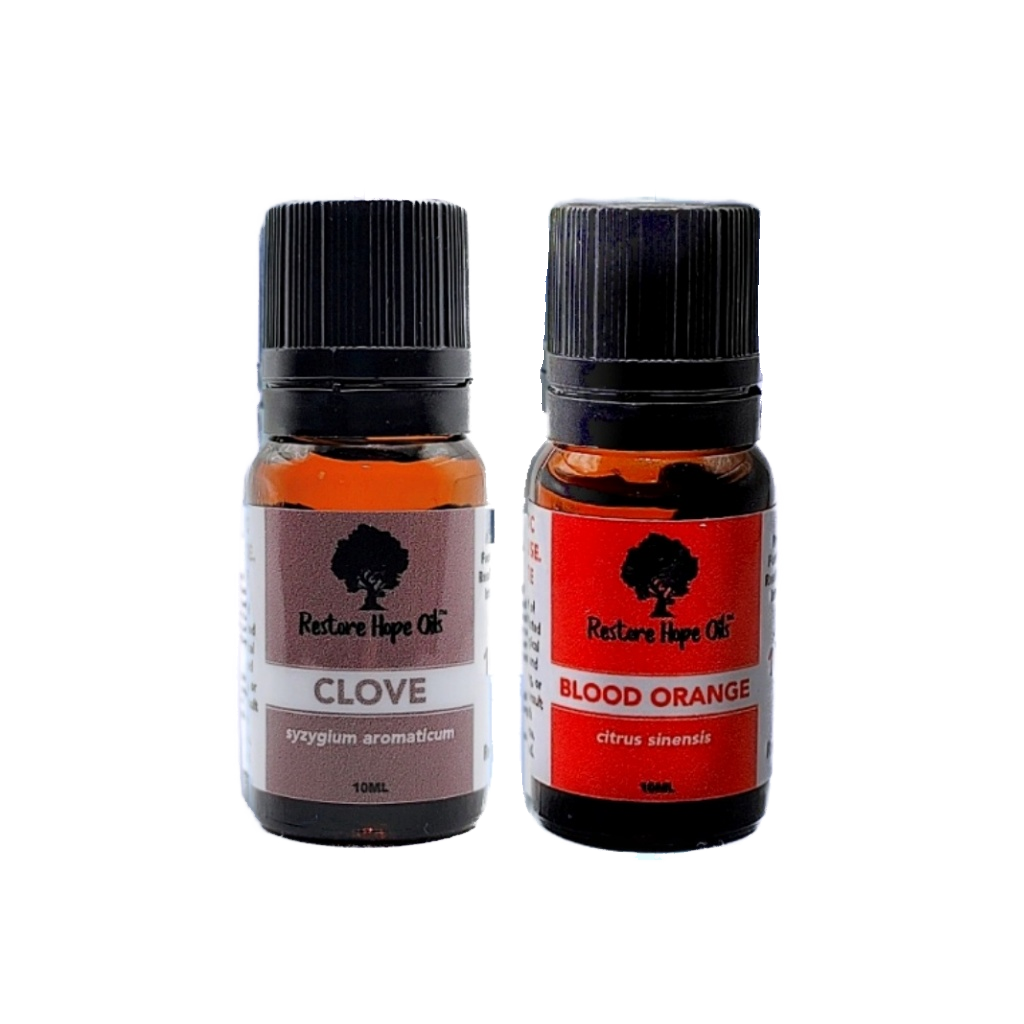 Collapsible content
Looking For A Specific Oil ?

> SEARCH HERE < - We have many essential oils to choose from. Enjoy a wide selection of singles and blends that may cater to your needs.