Restore Hope Oils
Regular price
$52.85 USD
Sale price
$47.00 USD
Unit price
per
Sale
Sold out
The Citrus Sunset Trio offers some of our favorite essential oils that may provide support for mental fatigue, concentration, offering a calming effect that assist to end the day in a more relaxed manner. 
These essential oils do not need to be used at the same time, but rather can be helpful for different situations.
The Citrus Sunset Trio includes the following:  Orange Sweet, Bergamot, and Red Mandarin
More Details
Wonderfully smelling and uplifting to the spirit. A fantastic essential oil for those who may be experiencing a moment of anxiousness or low mood. Just add a drop to your hands and inhale for an uplifting experience. Mostly touted and used for its uplifting properties, it also has great cleansing abilities and can help defend against mental fatigue when it is diffused.
Cautions
• Avoid UV rays for at least 12 hours after applying.
• Always dilute when using.
Key Benefits
• Uplifting, Emotional Balance, Lymphatic Support, Digestive Aid, Antioxidant, Mental Fatigue
A wonderful floral and citrus scent. Similar in size to an Orange this essential oil is expressed or cold pressed from the Rhine before it is ripe. This is an amazing essential oil with great emotional balancing properties. It is known as one of the few essential oils that can uplift and calm the body at the same time. Our Bergamot is bergaptene-free, which means the components that cause photosensitivity have been removed.
Key Benefits
• Adrenal Fatigue, Aid Feelings of Nervousness or Anxiousness, Clarity of Mind, Digestive Aid, Candida
Cautions

Dilute as it may irritate sensitive skin.
According to genetic studies Mandarin was one of the original citrus species and it is interesting in that it has a more unique scent than other citrus essential oils. Many of the commercial citrus we enjoy today include Mandarin as an ancestor. Red Mandarin is safe for children to help calm and soothe digestive challenges. It is the gentlest of the citrus family. Helpful for the respiratory, lymphatic and digestive systems.
Key Benefits

• Skin Clarifier, Digestive Support, Calming, Central Nervous System, Fluid Retention, Insomnia, Nervous Tension, Lymphatic Support, Liver Support

Cautions
• Non-toxic, non-irritant, generally non-photo-toxic.
• Dilute with Fractionated Coconut Oil as it may irritate sensitive skin. or when using with children.
For more uses on the specific oils in this trio click the links below:

Share
View full details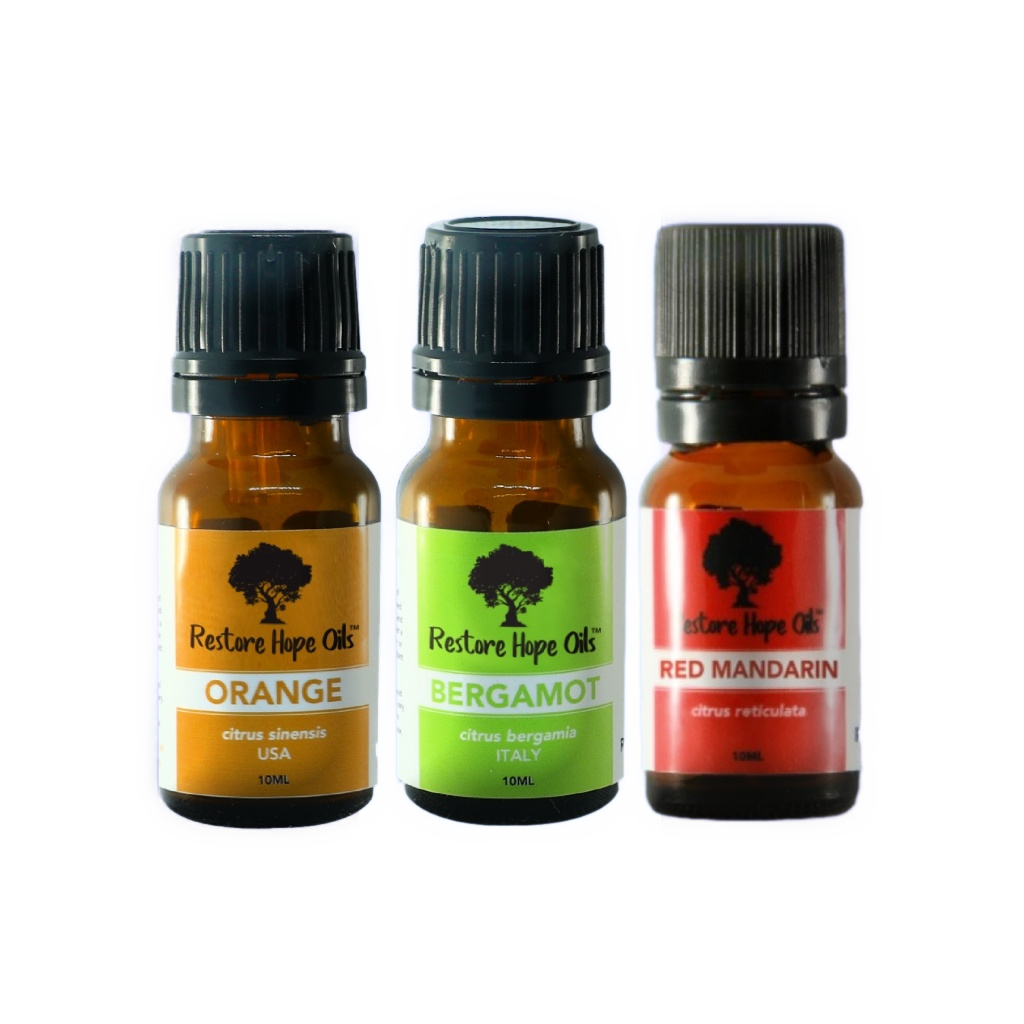 Collapsible content
Looking For A Specific Oil ?

> SEARCH HERE < - We have many essential oils to choose from. Enjoy a wide selection of singles and blends that may cater to your needs.