Restore Hope Oils
Regular price
Sale price
$24.95 USD
Unit price
per
Sale
Sold out
Thyme is known for its powerful capacity to support the immune system. It is considered a hot oil so always dilute when using it. A hot oil is considered a very strong oil that if not used with a carrier oil it will irritate the skin due to its concentration of specific chemical constituents in the oil. Thyme essential oil has been used to reduce inflammation and aid respiratory issues for many years. It can help increase circulation, support brain function, cellular function, and defend against possible yeast overgrowth.
Key Benefits 
• Antimicrobial, Relieve Minor Coughs, Supportive of the Immune System, Enhances Circulation, Aids General Digestion, Warming for Sore Muscles, Calming for the Central Nervous System
Common Uses
• Help defend against seasonal threats while supporting the immune system as a whole by diffusing or applying 1 drop to the bottom of each foot. 
• Apply one drop with 1-2 teaspoons of Restore Hope Oils Fractionated Coconut Oil to the lower abdomen to support digestive function and defend against yeast overgrowth.
• Diffuse to purify the air from unwanted pathogens.
• Apply 1-2 drops with 1-2 teaspoons of Restore Hope Oils Fractionated Coconut Oil to support brain and cellular function. 
Latin Name 
• Thymus vulgaris
Complementary Oils  
• Lavender, Lemon, Marjoram, Peppermint,
Bergamot, Clary Sage, Geranium, Rosemary
Main Constituents 
• Borneol, alpha-Terpineol, Carvacrol
Cautions
• Always dilute with Fractionated Coconut Oil when applying topically.
• Not for use with children
• Avoid during pregnancy
Share
View full details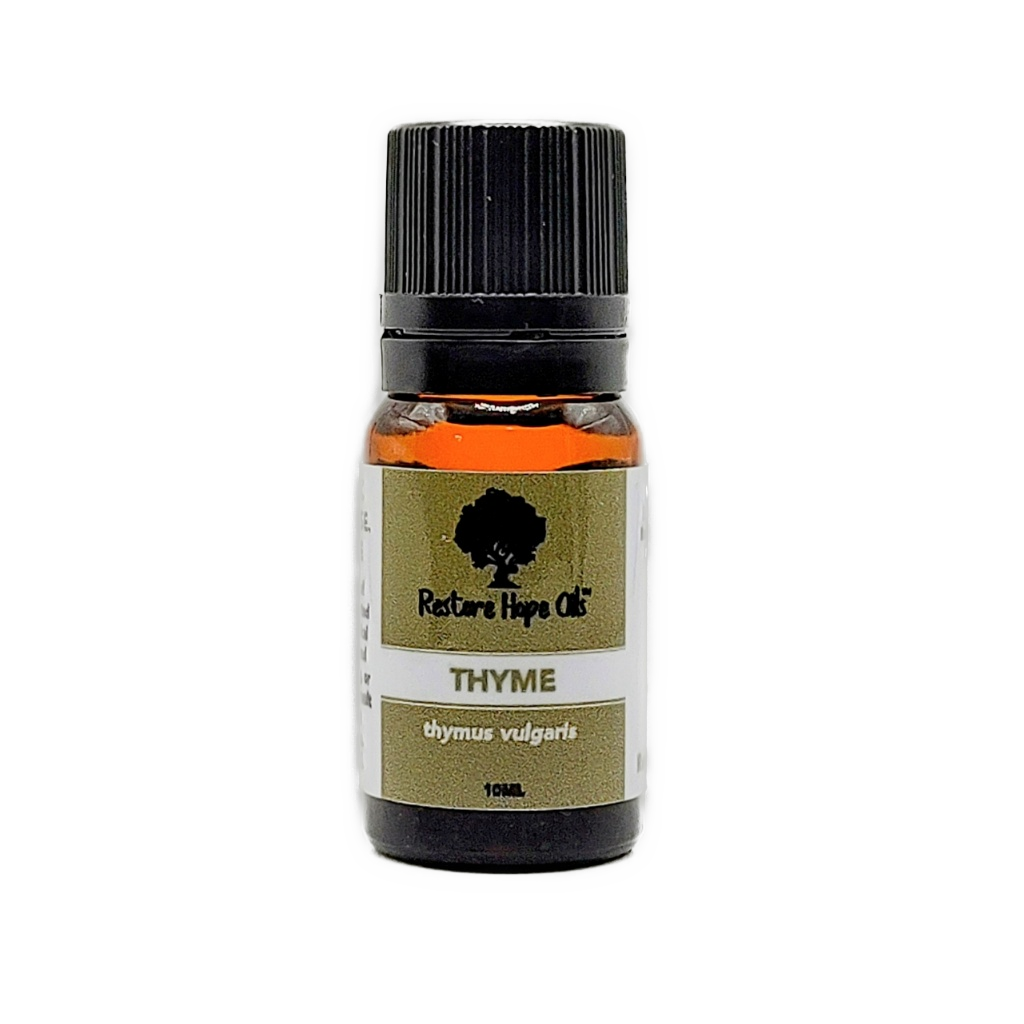 Collapsible content
Looking For A Specific Oil ?

> SEARCH HERE < - We have many essential oils to choose from. Enjoy a wide selection of singles and blends that may cater to your needs.