Restore Hope Oils
Regular price
$55.00 USD
Sale price
$50.00 USD
Unit price
per
Sale
Sold out
The Alleviate Duo was created for anyone who desires a more natural approach to managing discomfort and possible inflammation. For a more pronounced relief you get two of our best-selling blends together in a duo. Pure Mobility offers a collection of essential oils that are known to affect muscle and Joint soreness. Pure Relief offers a collection of essential oils that are known to affect tension.
Both essential oils do not need to be used at the same time, but rather can be helpful for different situations. 
The Alleviate Duo contains the following:
Pure Mobility Roll-On (Muscle and Joint Soreness Blend)
This is a warming blend of oils to help relax the mind and aid stiff muscles and joints. This blend contains no oils with a high amount of menthol. This blend may be better for nursing mothers, those who may be taking blood thinners, or for those who do not enjoy a cooling effect.
This is a powerful blend of essential oils that help relieve muscle tension and stress in the neck and shoulder areas with both a warming and cooling effect. This blend contains oils with menthol for both a cooling and warming effect.
Key Benefits 
•  Muscle recovery, muscle and joint soreness, tense muscles, nerve support

•  Eases neck and shoulder tension, soothes sore muscles, head tension.
Common Uses 

•  Apply to sore muscles, joints or areas of discomfort.
•  Apply to muscles worked after a workout to aid in muscle recovery.
•  Apply to tense muscles caused by stress or possible muscle exhaustion.
•  Roll on neck and shoulders to lessen feelings of stress and tension.
•  For a proactive approach to minimizing headache discomfort apply to the neck and shoulders, temples, and/or to the top of forehead away from eyes. 
•  Apply to sore joints for 100% natural aid.
Cautions 
•  Not for use on small children, may be sensitive on some skin types please dilute apply additional carrier oil if irritation occurs.
•  Not for use during pregnancy or while nursing.
•  Take care to avoid eye exposure when applying.
•  Not for use on children.
For more uses on the specific essential oils in this duo click on the links below.
Share
View full details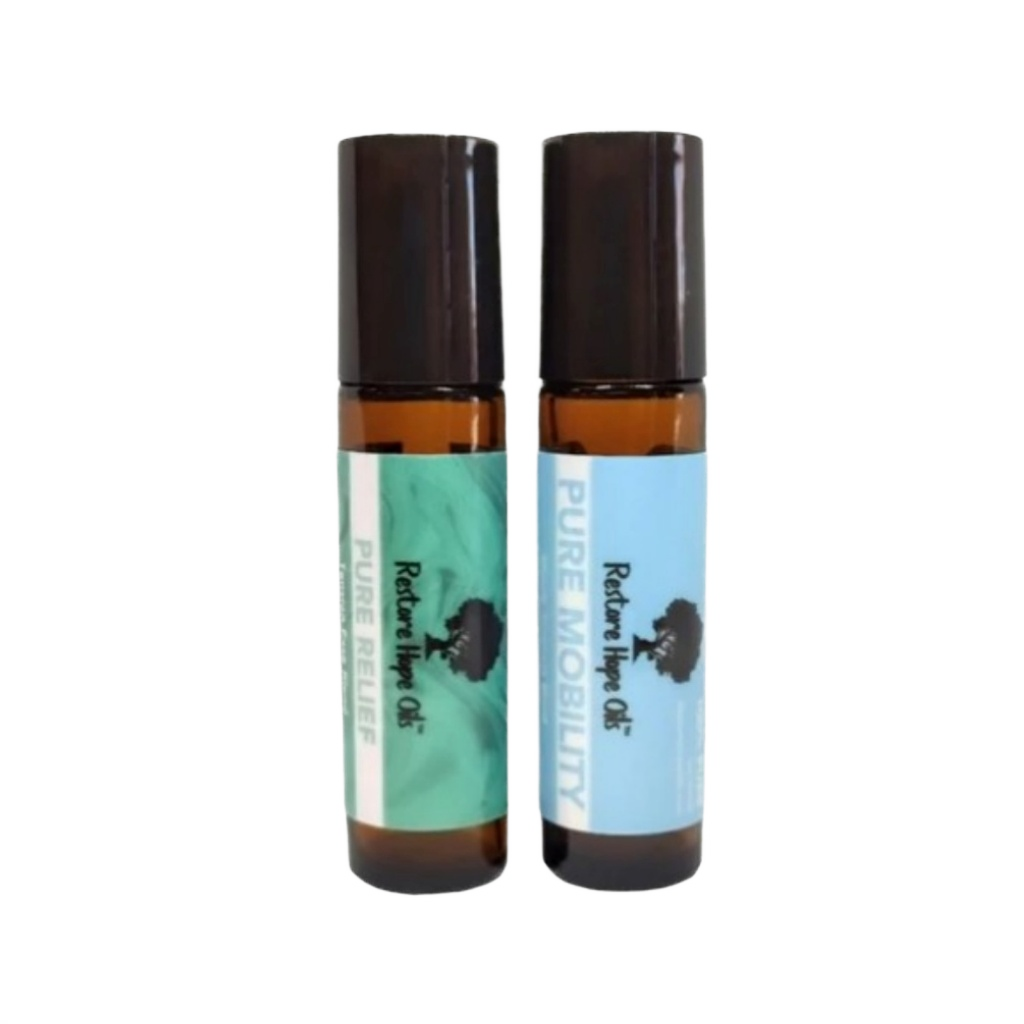 Collapsible content
Looking For A Specific Oil ?

> SEARCH HERE < - We have many essential oils to choose from. Enjoy a wide selection of singles and blends that may cater to your needs.