Restore Hope Oils
Regular price
Sale price
$47.95 USD
Unit price
per
Sale
Sold out
Many know of Frankincense as the "King of Oils" for the many uses it has. We specifically utilize Frankincense carterii (Boswellia carterii). Frankincense has been used throughout history for religious purposes and for calming the mind and body. It has an amazing capacity to support cell health, skin challenges, the digestive system and can be helpful in defending against inflammation in the body. Frankincense seems to help individuals connect more with God and the divinity within themselves. It was one of the gifts that the Three Wise Men brought to Jesus in ancient times. Fracnkincense carterii is considered a universal oil like Lavender or even Copaiba. 
Key Benefits
•  Clarity Of Mind, Immune Support, May Reduce Skin Blemishes, Helpful for Physical Scars and Emotional Scars, Calming for Central Nervous System Support, strengthening to the Respiratory System, Helpful for Working Through Emotional Pain.
Common Uses
• Diffuse to re-center your emotions or to aid in meditation or yoga practice.
• Apply with dilution of Restore Hope Oils Fractionated Coconut Oil to shoulders with Lavender when experiencing neck tension or higher amounts of stress.
• Apply with dilution of Restore Hope Oils Fractionated Coconut Oil over heart when feeling nervous, to increase feelings of confidence or when experiencing great emotional or mental stress.
• Apply 2- drops with 1/2 - 1 teaspoon of Restore Hope Oils Fractionated Coconut Oil to support whole body health and immune defense. 
Latin Name

• Boswellia carterii

Complementary Oils
• Bergamot, Grapefruit, Lavender, Lemon, Orange, Peppermint, Roman Chamomile
Cautions
• Use more dilution with children

• Please dilute with Fractionated Coconut Oil when applying topically.
Share
View full details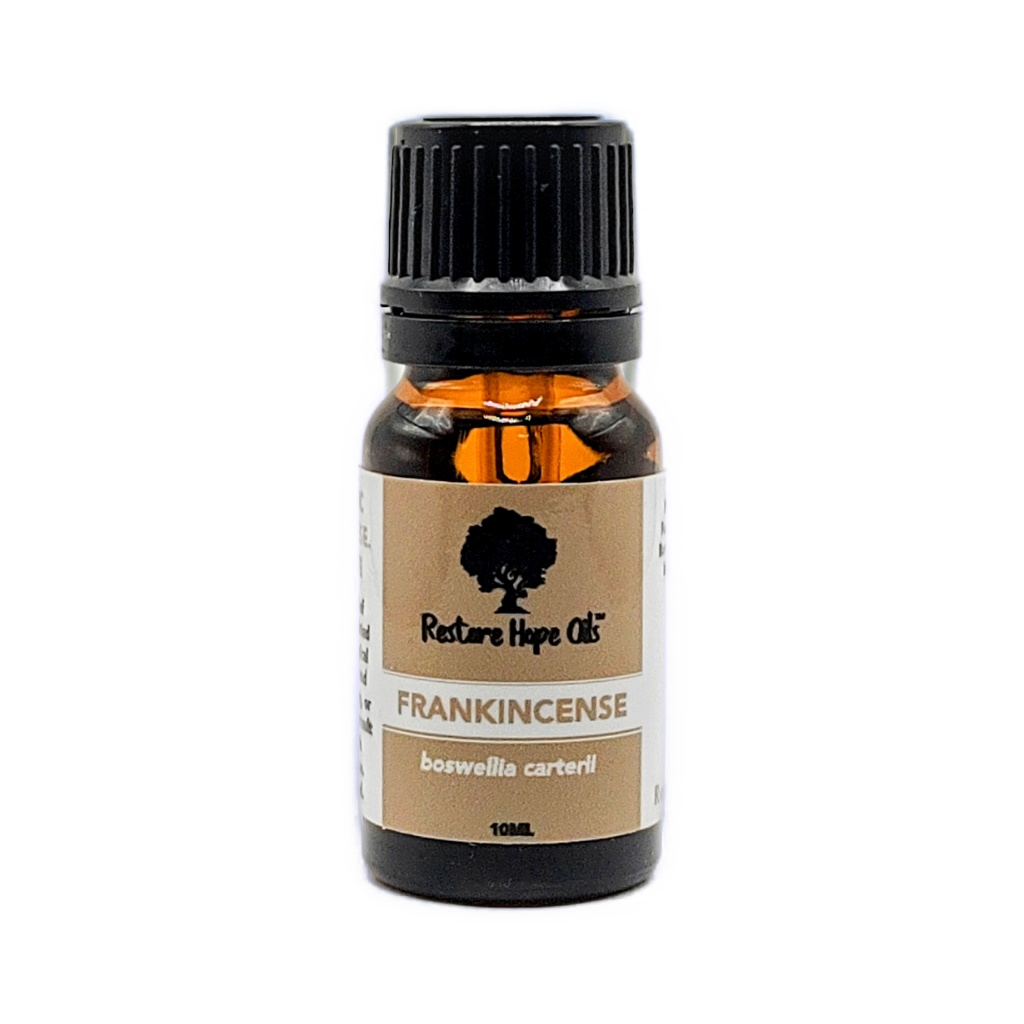 Collapsible content
Looking For A Specific Oil ?

> SEARCH HERE < - We have many essential oils to choose from. Enjoy a wide selection of singles and blends that may cater to your needs.