Restore Hope Oils
Regular price
Sale price
$17.95 USD
Unit price
per
Sale
Sold out
PRE-DILUTED FOR YOUNG AND SENSITIVE SKIN

Vetiver is arguably the most complex essential oil on the market. Vetiver's main objective is to help the body and mind reconnect and come to a state of balance. A favorite of those who continually feel tired from high amounts of stress. Offering a strong and direct emotional connection it helps us when other more subtle essential oils have not helped us breakthrough emotional barriers.
Often applied to the feet and spine for a more restful sleep and to calm an anxious mind. Also known for its capacity to minimize hot flashes. The root of the plant is steam distilled for therapeutic benefit. Vetiver has a very strong, earthy scent and helps us reconnect with the earth when we may have lost our connection with nature. One of the most researched oils in reference to hyperactivity and calming the mind.  Found to be helpful among those who use it for feelings of consistent fatigue and burnout.
More Details

Key Benefits
•  Aids Chronic Feelings of Overwhelm and Fatigue, Burnout, Sedative-like Properties, Antiseptic, Antispasmodic, Tonic, Immune Support Due to Stress.
Common Uses
•  Apply to the lower abdomen, lower back and neck and shoulders to help minimize hot flash sensations.
•  Apply to the bottom of the feet and spine to calm the mind, decrease irritability or feelings of anger.
•  Apply to the bottom of the feet and abdomen to support the immune system.
•  Apply to the bottom of feet and/or neck and shoulders when experiencing consistent fatigue and overwhelm. 
Ingredients - Fractionated Coconut Oil and Vetiver
Latin Name
• Vetiveria Zizanioides
Complementary Oils
•   Lavender, Litsea Cubeba, Patchouli
Cautions
•  Non-toxic
•  Non-irritant
•  Non-sensitizing
Share
View full details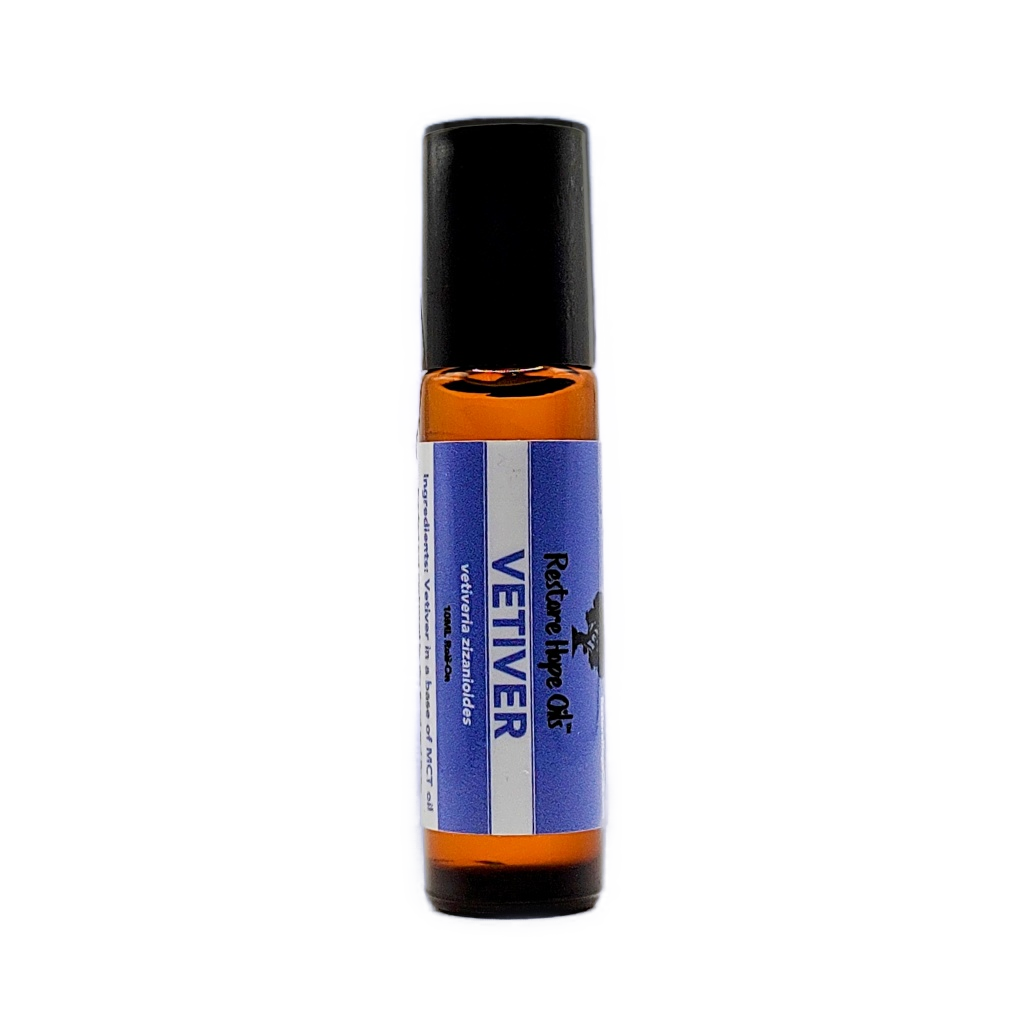 Collapsible content
Looking For A Specific Oil ?

> SEARCH HERE < - We have many essential oils to choose from. Enjoy a wide selection of singles and blends that may cater to your needs.