Restore Hope Oils
Regular price
Sale price
$69.85 USD
Unit price
per
Sale
Sold out
The Breathe It In Trio is a collection of essential oils that we have found that may assist with breathing challenges.
All of these essential oils do not need to be used at the same time, but rather can be helpful for different situations.
The

Breathe It In Trio

 contains the following:
Eucalyptus Globulus, Remember Him (Gratitude Blend), and Forest Air Respiratory Blend.
We have listed the details of all essential oils included in this trio, so you can get an idea of how they may assist you individually or collectively.
More Details
Remember Him (Gratitude Blend)
With aspects of tree, citrus and spice oils, you are sure to enjoy the subtle aroma of Remember Him. It combines scents from the Bible with some of the modern world to provide a calming and uniquely sweet scent. This is an oil that can be diffused or used topically. This could be considered a great evening respiratory oil as it has calming effects.
Cautions
• Always dilute when using this oil topically.
• Not for use on children's skin.
• Do not use if pregnant or nursing.
• Not for internal use due to containing essential oils such as Cedarwood, Cypress, Hyssop and Frankincense Serrata.
 Key Benefits
• Calming for mind and body, mental stress reliever, respiratory support, immune support, anti-inflammatory capacity, and minimizes muscle soreness.
Eucalyptus is more of a stimulating essential oil. A fantastic respiratory and muscle oil that gets the mind going. This type of Eucalyptus, Eucalyptus globulus, would be better suited for use with children over the age of five up through adults. Combine with Peppermint or Rosemary in the diffuser for powerful respiratory support during cold season.
Cautions
• Do not use with children under 5.
• Keep away from individuals who experience seizures.
• Do not use while pregnant or while nursing
Key Benefits
• Analgesic capacity, respiratory decongestant, antirheumatic, antiviral, antispasmodic, helps relieve muscle soreness, and energizing for the mind.
Forest Air was blended to support the respiratory system and help protect it against seasonal threats. We are conifer tree oil fans at Restore Hope Oils as they have a fantastic capacity to ground us and help general lung function. This is why Canadian Fir (Balsam Fir) and Siberian Fir are the first two ingredients in our Forest Air blend. Forest Air was formulated to be a helpful blend when seasonal allergies hit or when you sense congestion or growing pressure in your sinuses. Supportive of the immune system and respiratory system it is no wonder it is one of our top selling blends. Customers often purchase Forest Air and Pure Defense together for greater protection against immune system threats. This blend could be considered a great daytime respiratory blend (but is not limited to daytime use) because of its stimulating effects. Safe for children when used with Restore Hope Oils Fractionated Coconut Oil. See below.
Cautions
• Possible skin sensitivity please dilute with Restore Hope Oils Fractionated Coconut Oil
• Take care to avoid eye exposure when applying
• Dilute at maximum of 2% for children 2-5 years old for topical use
Key Benefits
• Support open airways, respiratory support, aids the immune system, air purifier when diffused, minor bronchial disturbances, antimicrobial, helps defend against mucus buildup, can help mitigate muscle soreness.
For more uses on the specific oils in this trio click on the links below:

Eucalyptus Globulus, Remember Him (Gratitude Blend), and Forest Air Respiratory Blend.
Share
View full details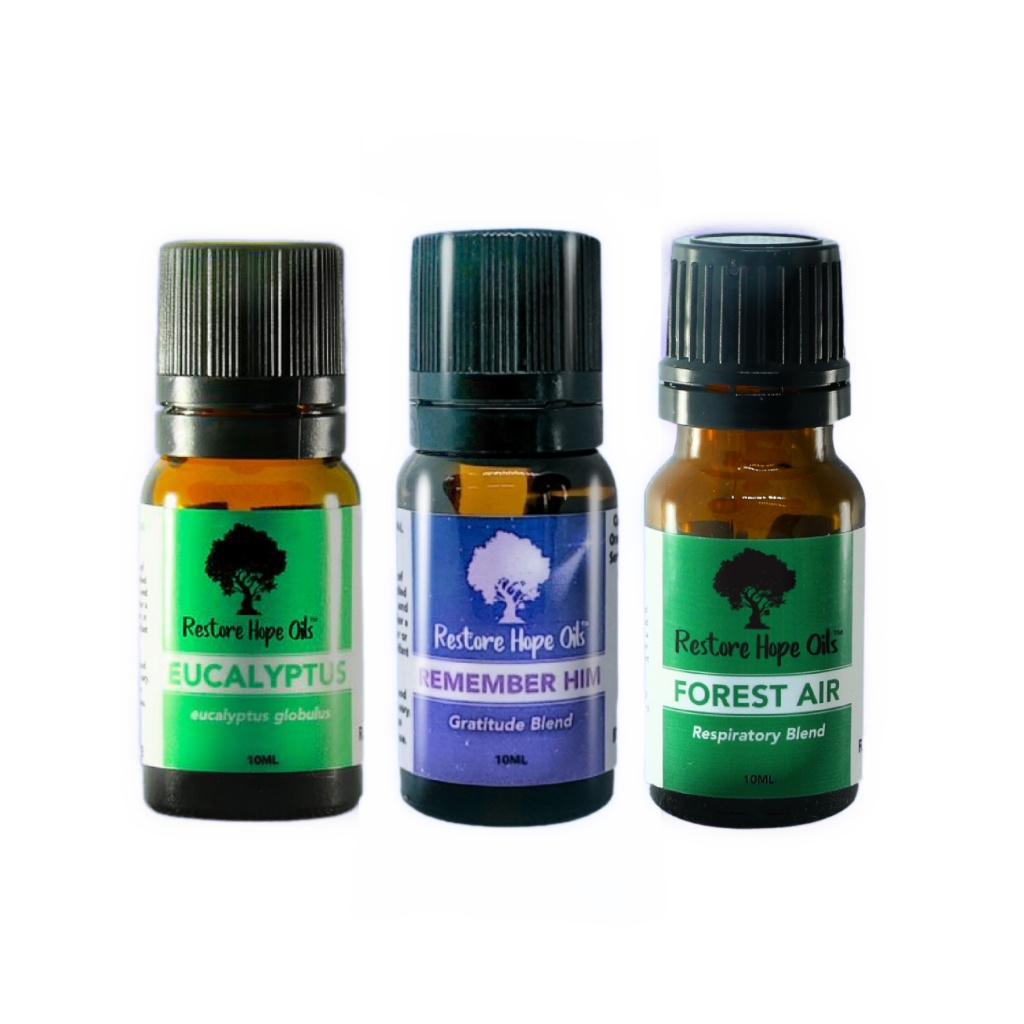 Collapsible content
Looking For A Specific Oil ?

> SEARCH HERE < - We have many essential oils to choose from. Enjoy a wide selection of singles and blends that may cater to your needs.