Restore Hope Oils
Regular price
Sale price
$24.95 USD
Unit price
per
Sale
Sold out
Geranium is considered a tonic for the body and stagnant emotions. Geranium is seen as a foundational oil for the female body. Geranium can be so helpful at allowing us to forgive and release anger when applied over the liver with a carrier oil. Geranium may also assist in managing mood swings and PMS symptoms due to its benefits for hormone support.  
Key Benefits 
• Aids Emotional Balance, Hormone Support, Liver/Gallbladder Support, Kidneys and Adrenal Support, Anti-inflammatory Capacity, Defends Against Acne, Reduces Skin Blemishes, Great for Wound and Scarring Repair
Common Uses
•  Apply 1-2 drops diluted with Restore Hope Oils Fractionated Coconut Oil over the liver area to aid in normal detoxification and bile duct support.
•  Add 1 drop to hair conditioner to soften hair.
•  Apply sparingly to acne or add 1-2 drops to your moisturizer to enhance complexion.
•  Apply with Restore Hope Oils Fractionated Coconut Oil to wounds to help mitigate scarring and stimulate repair.
•  Apply 1-2 drops with Restore Hope Oils Fractionated Coconut oil to the lower abdomen to help minimize possible cramping from PMS.
Latin Name
• Pelargonium graveolens
Complementary Oils
• Bergamot, Roman Chamomile, Clary Sage, Cypress, Grapefruit, Lemon, Red Mandarin, Patchouli, Peppermint, and Lavender
Caution:
• Always dilute with Fractionated Coconut Oil when applying topically to avoid skin irritation.
Share
View full details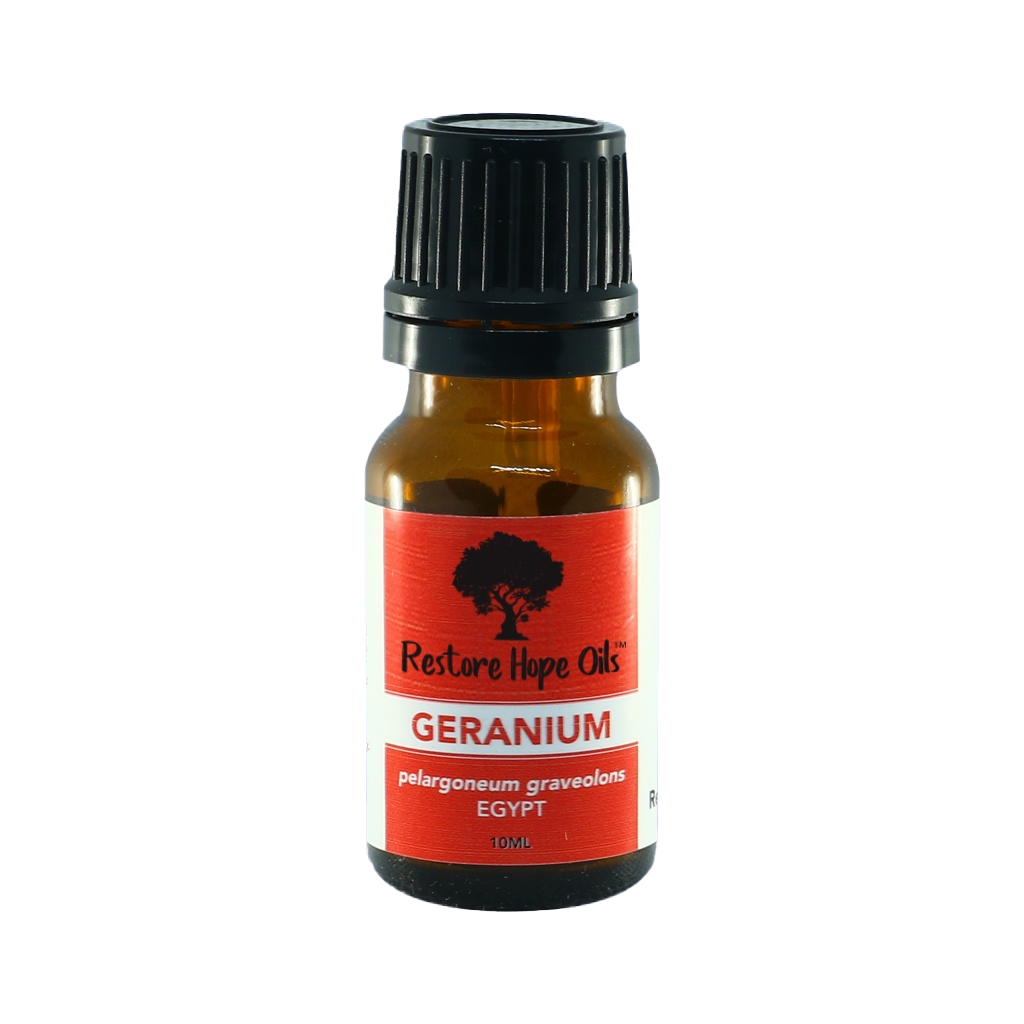 Collapsible content
Looking For A Specific Oil ?

> SEARCH HERE < - We have many essential oils to choose from. Enjoy a wide selection of singles and blends that may cater to your needs.