Restore Hope Oils
Regular price
$53.95 USD
Sale price
$50.00 USD
Unit price
per
Sale
Sold out
The Immune Defense Duo offers two of our most popular essential oil blends that provide support to the immune and respiratory systems. The Immune Defense Duo can help provide consistent protection against seasonal threats.
Both of these essential oil blends do not need to be used at the same time, but rather can be helpful for different situations.
The Immune Defense Duo includes and Pure Defense and Forest Air™
More Details
Pure Defense (Immune Response Blend)
• Pure Defense was formulated as a natural and proactive defense against seasonal sickness/threats. The essential oils in this blend are historically used for immune, digestive, circulatory and respiratory support.
Key Benefits
• Protection From Seasonal Threats, Anti-infectious, Immune Stimulant, May Aid Gum and Oral Health, Circulatory Support, Respiratory Support Against Microbials.
Forest Air™ (Respiratory Essential Oil Blend)
•  Forest Air™ was formulated to support the respiratory system and help protect it against seasonal threats. We are conifer tree oil fans at Restore Hope Oils as they have a fantastic capacity to ground us and help support our respiratory systems.
Key Benefits
• Support Open Airways, Respiratory System, Immune System, Air Purifier When Diffused, Defend Against Minor Bronchial Disturbances, Antimicrobial, Help Defend Against Mucus Buildup, Mitigate Muscle Soreness.
For more uses on the specific oils click on the links below:
Pure Defense (Immune Response Blend) & Forest Air (Respiratory Essential Oil Blend), 
Share
View full details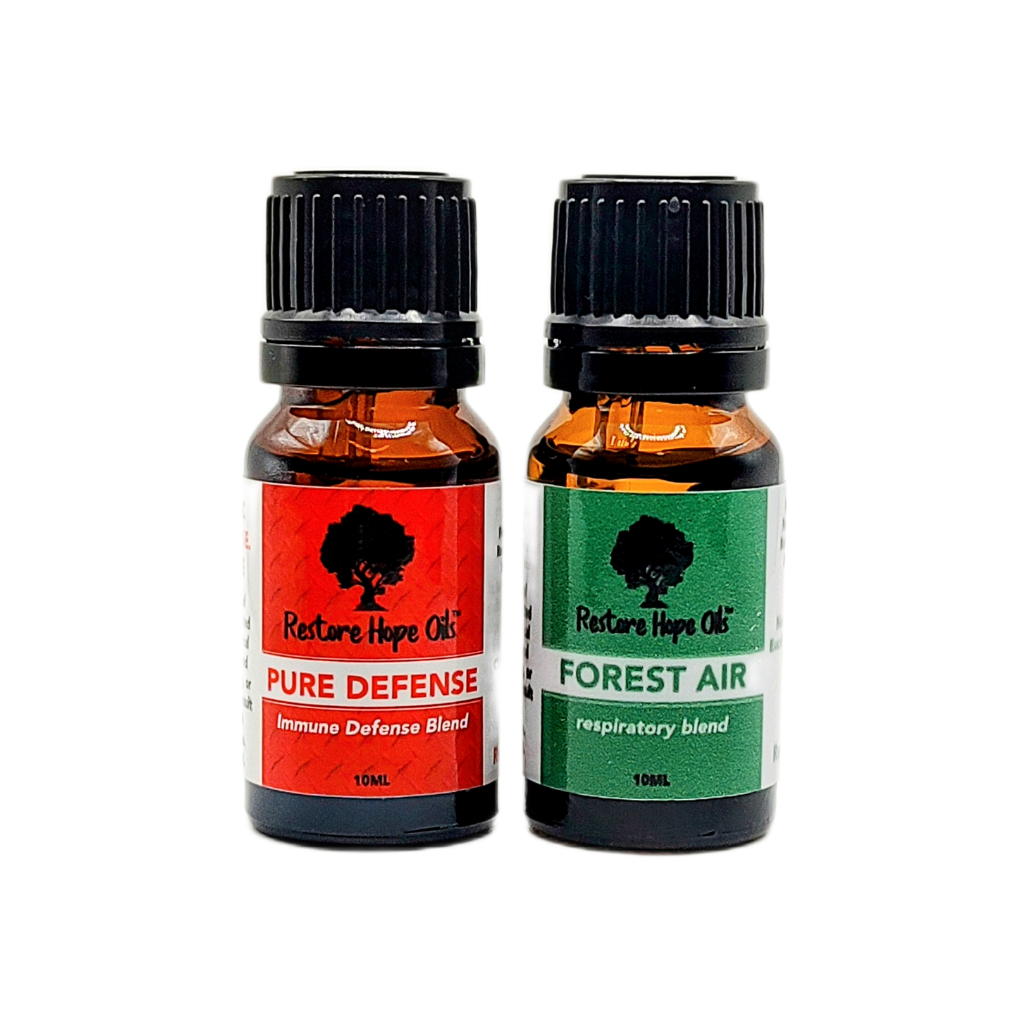 Collapsible content
Looking For A Specific Oil ?

> SEARCH HERE < - We have many essential oils to choose from. Enjoy a wide selection of singles and blends that may cater to your needs.