Restore Hope Oils
Regular price
$67.00 USD
Sale price
$62.50 USD
Unit price
per
Sale
Sold out
This is a limited edition bundle which includes our Liv Better ™ in Roll-On form along with our standard Liv-Better euro dropper bottle for aromatic and topical use at a bundle savings price. The Liv-Better ™ Roll-On fits conveniently in a pocket or purse when you are on the go. It is pre-diluted for most skin types. The standard Liv-Better™ euro dropper bottle contains a higher concentration of the Liv-Better essential oil blend. The Liv-Better standard euro dropper bottle is great to use when at home, where it may be more convenient to apply with additional Fractionated Coconut Oil. Both options are included in this bundle for greater freedom of application and convenience.
Formulated to help support normal liver function and biliary tree function. The liver continues to be introduced to more toxins and stress because the general population is living more challenging lives. Non-alcoholic fatty liver disease continues to rise in the US. Liv-Better was created to support normal detoxification methods already performed by the liver, biliary tree and gallbladder.
Key Benefits:
•   Supports normal detoxification of the liver and bile ducts, 
Common Uses:
•   Apply either form of Liv-Better to the bottom of the feet before bed to act as a gentle liver decongestant while you sleep.
• Apply the Liv-Better Roll-On over the liver area for daily liver support.
•  Combine 1–2 drops of Liv-Better standard bottle with 1/2 - 1 teaspoon of Restore Hope Oils Fractionated Coconut Oil directly over the liver area for daily liver support.
•  Liv-Better can be used in conjunction with Pure Regen™ as well, in the following manner to support both lymph and liver detoxification. 
Ingredients:
•  Red Mandarin, Rosemary, Geranium, and Helichrysum in a base of Fractionated Coconut Oil
Complementary Oils:
•  Pure Regen™, Lemon, Cypress, Bergamot, Roman Chamomile
Cautions:
•  Talk to your Healthcare Specialist before beginning any essential oil regimen.
Share
View full details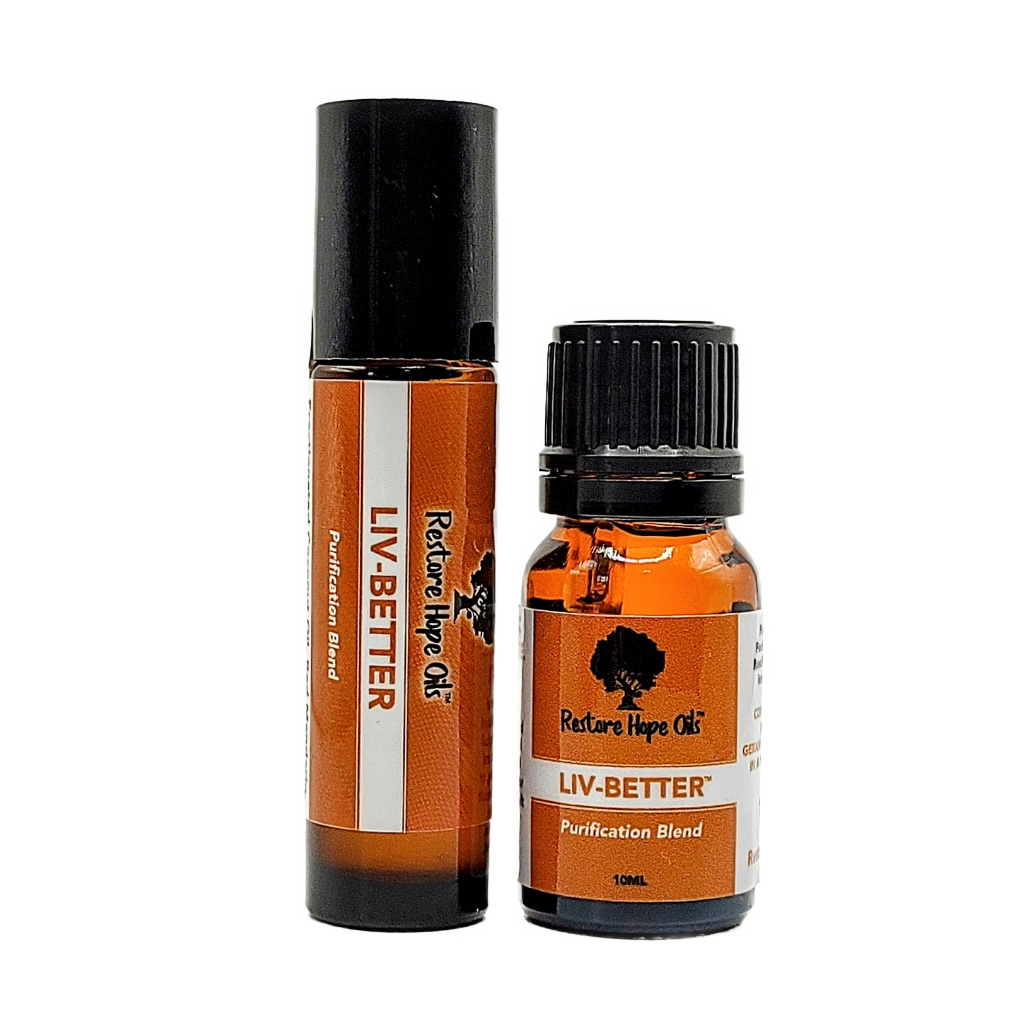 Collapsible content
Looking For A Specific Oil ?

> SEARCH HERE < - We have many essential oils to choose from. Enjoy a wide selection of singles and blends that may cater to your needs.