Restore Hope Oils
Regular price
$59.90 USD
Sale price
$51.95 USD
Unit price
per
Sale
Sold out
The Lymphatic Duo provides two powerful essential oil blends that help to support normal lymphatic function while bolstering the immune system naturally.
This duo includes, I Am Strong™, and I am Peace™, Roll-Ons. The essential oil blends in this duo do not need to be used at the same time, but rather can be helpful for different situations or used at different times of the day.
The

 Lymphatic Duo

contains the following:
I Am Strong™ • also known as the (Power Blend) was formulated with the intention of providing an energizing and uplifting aroma to help the body and individual work through feelings of stress and/or mental stagnation. This blend contains essential oils known for metabolic, immune, and lymphatic support.
I Am Peace™ is known as the (Contentment Blend), and was first created with the goal of providing an uplifting aroma with a subtle emotional grounding effect to help minimize possible feelings of stress and anxiousness.
This blend was developed with some of the most researched mood and brain support essential oils. I Am Peace™ was created to aid individuals on their journey to finding and experiencing greater contentment on a daily basis while supporting the lymphatic, cardiovascular, and central nervous systems.
We have listed more details of all essential oil blends included in this duo, so you can get an idea of how they may assist you individually or collectively.
More Details
Key Benefits
•  Mentally Uplifting and Energizing, Cellular and Antioxidant Support, General Immune Defense, May Support Proper Glucose and Metabolic Levels, Promotes Stress Relief, Defends Against Excess Cortisol
 Common Uses
• May be applied to the neck and shoulders to experience the aroma, energize the mind and encourage blood flow to the brain.
• Apply to the abdomen in a clockwise formation to encourage movement digestively and emotionally.
• Apply this oil to the big toe right in the center of the pad to help support normal pituitary gland function.
• Spinal application would be to roll the oil up and down the spine to provide antioxidant support to the central nervous system and whole-body benefit.
• Lymphatic areas or points such as bringing it down the sides of the neck as a lymphatic stimulant.
Cautions
• Avoid UV Rays for 12 hours after applying topically to exposed areas of skin.
• Nontoxic, non-sensitizing, non-irritant
Key Benefits

•  Uplifting with a gentle relaxation effect for both mind and body, promotes a feeling of optimism, grounding for emotions, helps to support normal lymph movement, immune and cardiovascular function, encourages normal cortisol levels.
Common Uses
•  Apply over the heart and abdomen areas to help calm possible feelings of stress and anxiousness.
•  Apply on the bottom of feet and/or chest at bedtime to aid a stressed or overworked mind.
•  Apply down the sides of the neck or to other lymphatic points to encourage proper lymph drainage.
•  Apply to the neck/shoulder area and over the abdomen in a clockwise direction before a stressful situation to engender a feeling of reassurance.
•  Apply to wrists or neck for an uplifting citrus, floral aroma with gentle grounding earth essences.
Cautions

• Avoid UV rays for 12 hours after applying topically to exposed skin.
For more uses of the specific essential oils in this duo, click on the links below:
Share
View full details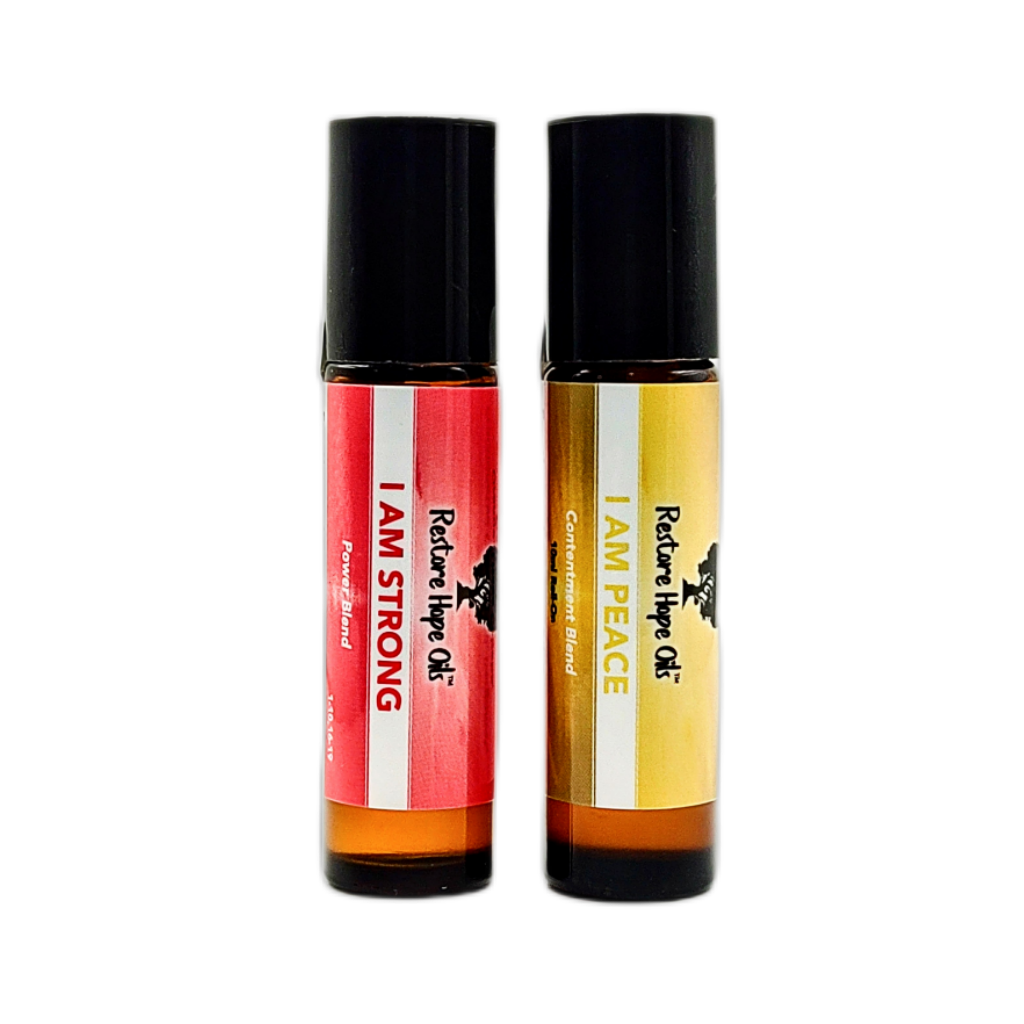 Collapsible content
Looking For A Specific Oil ?

> SEARCH HERE < - We have many essential oils to choose from. Enjoy a wide selection of singles and blends that may cater to your needs.