Restore Hope Oils
Regular price
$55.00 USD
Sale price
$47.95 USD
Unit price
per
Sale
Sold out
The Adrenal Duo provides two powerful essential oil blends that encourage emotional grounding, stability, and balance. This duo includes I am Whole™, and I Am Enough™ Rose Edition , Roll-Ons. Both of these essential oil blends are built to help support normal adrenal function that may have been disrupted through moments of stress and other life situations. I am Whole™, and I Am Enough™ Rose Edition contain essential oils that are historically known for calming the central nervous system and feelings of overwhelm.
The Adrenal Duo can be a natural aid to help manage the emotional ups and downs that come with transition and daily life.
The essential oils in I am Whole™, and I Am Enough™ Rose Edition help to remind us that we are enough, and we can feel whole despite our current life or emotional circumstances.
The essential oil blends in this duo do not need to be used at the same time, but rather the aroma of each blend can be helpful for different situations. 
The

 Adrenal Duo

contains the following:
I Am Whole™ • Formulated with essential oils that can aid the body and mind to feel greater hope in times of great stress and overwhelm. I Am Whole is a cellular and emotional support blend. It can be used daily as a way to help encourage the body's natural ability to move forward in the face of great challenge or difficulty.
I Am Enough™ Rose Edition • Formulated with the intent to aid possible feelings of anxiousness, nervous tension, as well as help alleviate mental and emotional stress when applied topically.
This is a blend with a smooth floral aroma with earth undertones that may help one to feel more grounded emotionally. We chose Rose Absolute as it can have a mesmerizing aroma that brings a subtle intensity and passion to a blend in a way other essential oils cannot. I Am Enough Rose Edition brings a deep Rose and almost honey aroma, whereas the original I Am Enough tends to have more of a Clary Sage sweet floral with an earthy herbaceous note.
We have listed more details of all essential oil blends included in this duo, so you can get an idea of how they may assist you individually or collectively.
More Details
Key Benefits
•  Cellular support, uplift mood, soothe anxious feelings, grounding for emotions, and helps to minimize emotional upsets caused by daily life.
Common Uses
• Apply to the bottom of wrists and breathe in for 30–60 seconds to recenter emotionally.
• Apply to the neck and shoulders to support a more positive and hopeful outlook each day.
• Apply to the neck/shoulder and heart areas when feelings of anxiousness or stress increase.
• Apply over the adrenal/kidney area, massaging the oil downward towards the sacrum to defend against adrenal fatigue and possible nervous exhaustion.
• Apply to bottom of feet and/or spine for whole body support.
Cautions
•  Safe for most skin types. Some with very sensitive skin may need to apply additional carrier oil to the skin before use.
Key Benefits
•  Sedative like properties, possible sleep aid, menopausal symptom support, calming for the body, antispasmodic, stress relief, adrenal support, emotionally grounding, hepatoprotective, hypotensive, and tonic for negative emotions.
Common Uses
•  Apply to the bottom of feet before bed for a more relaxing and restorative sleep.
•  In moments of stress, apply over the heart, bottom of wrists, and/or liver area.
•  For adrenal support, apply over the kidney area and lower spine. Gently massage in a downward motion towards the sacrum.
•  Apply to the spine for general emotional and central nervous system support as you would the original, I Am Enough.
 • Apply to lower abdomen and neck/shoulder area when experiencing mood challenges associated with menopausal symptoms.
Cautions
• Avoid UV rays for 12 hours after applying topically to exposed skin.
For more uses on the specific essential oils in this duo, click on the links below:
Share
View full details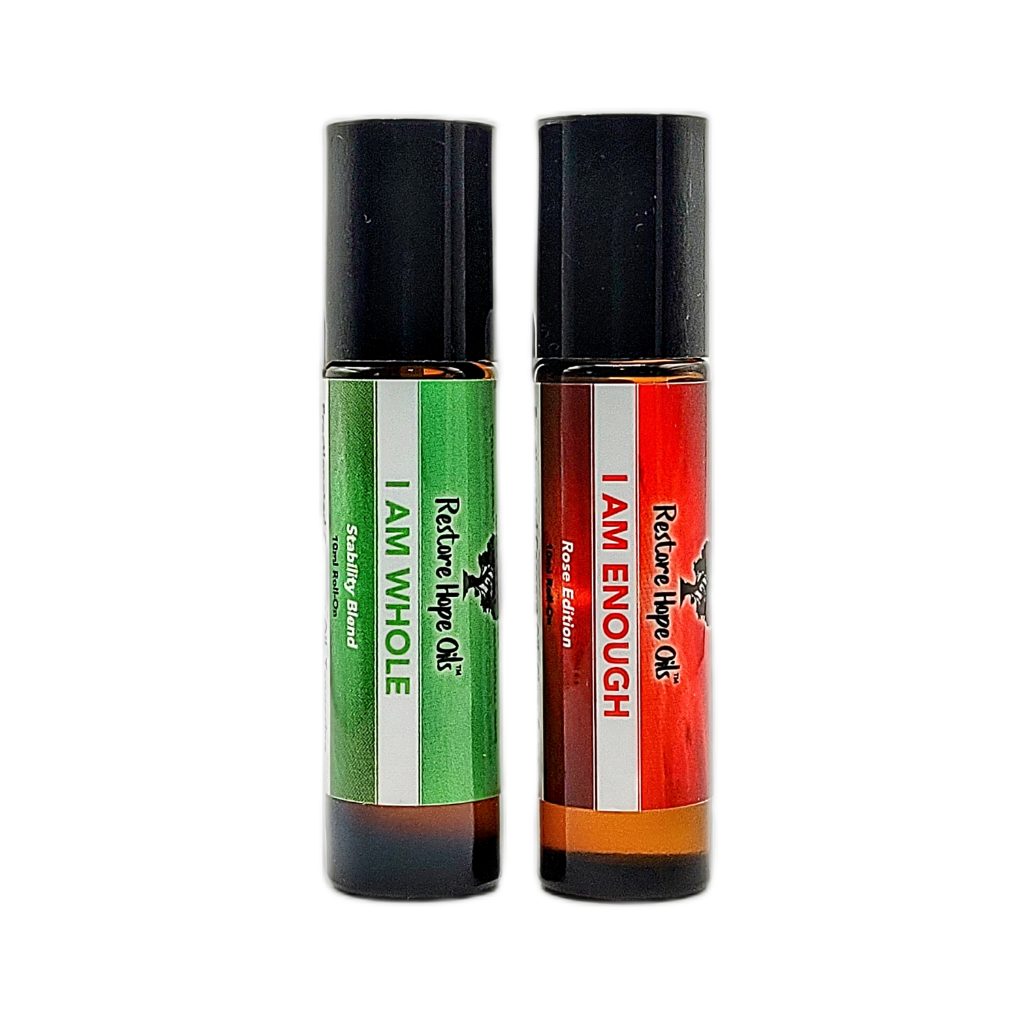 Collapsible content
Looking For A Specific Oil ?

> SEARCH HERE < - We have many essential oils to choose from. Enjoy a wide selection of singles and blends that may cater to your needs.