Restore Hope Oils
Regular price
Sale price
$28.95 USD
Unit price
per
Sale
Sold out
The I Am Enough Rose Edition Roll-On was formulated with the intent to aid possible feelings of anxiousness, nervous tension, as well as help alleviate mental and emotional stress when applied topically. Rose Absolute was added to this blend.
I Am Enough was originally created to help calm feelings of overwhelm, inadequacy, and/or insecurity. We decided to create a Rose Edition as Rose enhances all the oils in the original blend, allowing them to encourage a deeper more lasting emotional balance over time.
Rose tends to have a wonderful balancing effect on the emotions and psyche when experienced aromatically. This is a blend with a smooth floral aroma with earth undertones that may help one to feel more grounded emotionally. We chose Rose Absolute as it can have a mesmerizing aroma that brings a subtle intensity and passion to a blend in a way other essential oils cannot. I Am Enough Rose Edition brings a deep Rose and almost honey aroma, whereas the original I Am Enough tends to have more of a Clary Sage sweet floral with an earthy herbaceous note.

Our original I Am Enough Roll-On (Reassurance Blend) is still available, you can get additional information by clicking here.
More Details
Key Benefits
•  Sedative like properties, possible sleep aid, menopausal symptom support, calming for the body, antispasmodic, stress relief, adrenal support, emotionally grounding, hepatoprotective, hypotensive, and tonic for negative emotions.
Common Uses
•  Apply to the bottom of feet before bed for a more relaxing and restorative sleep.
•  In moments of stress, apply over the heart, bottom of wrists, and/or liver area.
•  For adrenal support, apply over the kidney area and lower spine. Gently massage in a downward motion towards the sacrum.
•  Apply to the spine for general emotional and central nervous system support as you would the original I Am Enough.
 • Apply to lower abdomen and neck/shoulder area when experiencing mood challenges associated with menopausal symptoms.
Ingredients
• Fractionated Coconut Oil, Clary Sage, Coriander, Vetiver, Geranium, and Rose Absolute
Cautions
• Do not use if pregnant due to the presence of Clary Sage
• May be sensitive for some skin types. Stop use if irritation or redness occurs. Do not use if experiencing dermatitis without additional carrier oil applied to the skin first.
• Not for use with small children.
Share
View full details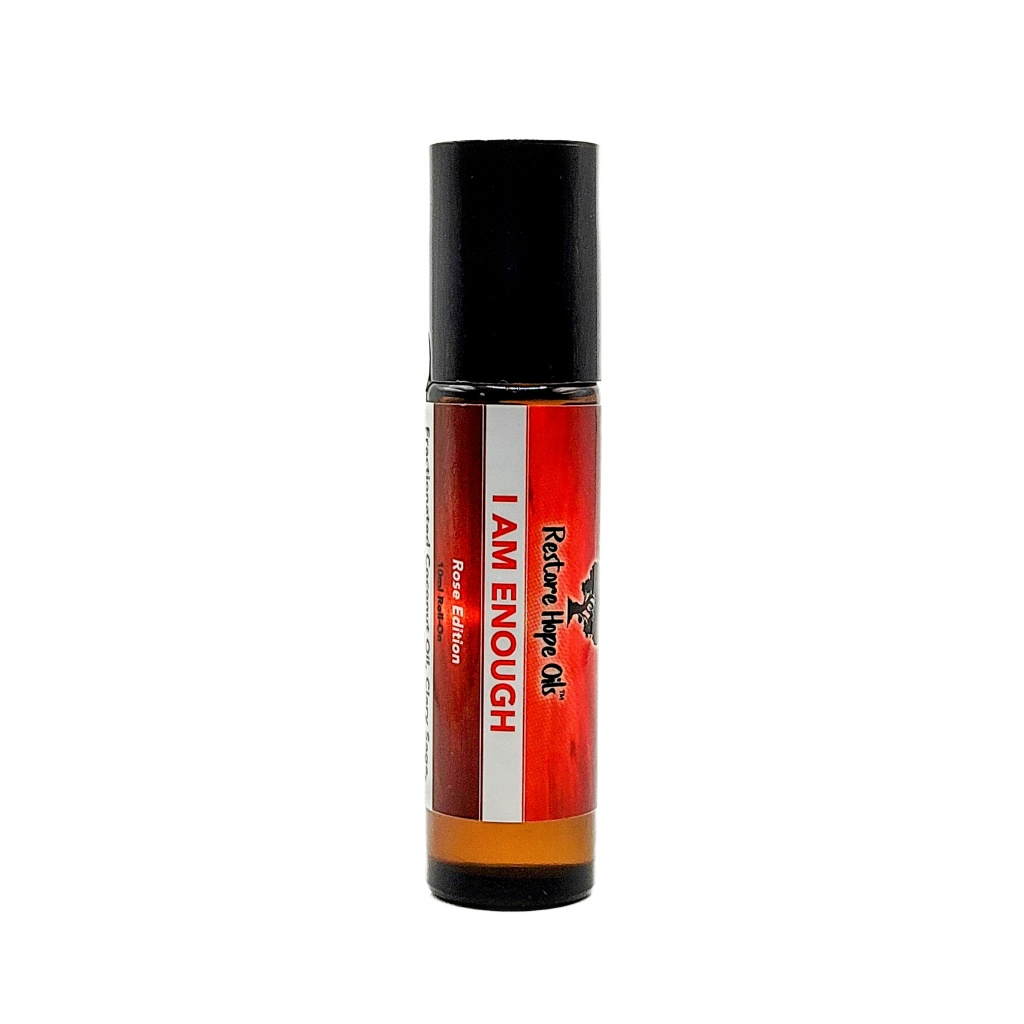 Collapsible content
Looking For A Specific Oil ?

> SEARCH HERE < - We have many essential oils to choose from. Enjoy a wide selection of singles and blends that may cater to your needs.