Restore Hope Oils
Regular price
Sale price
$22.95 USD
Unit price
per
Sale
Sold out
I Am Resilient™ was created to provide assistance for those times when our body needs to cool down from a hot day or when muscles need relief after an intense workout. This essential oil blend contains a combination of nine powerful essential oils. I Am Resilient™ was blended, with the intent of providing a natural way to help cool the body when overheated, or if a person tends to be uncomfortably hot.
This essential oil blend conveniently fits in a purse or pocket, so it will be available wherever you go.
Due to the level of stimulating essential oils and the high amount of Peppermint that was included in our formulation, as a precaution, we wanted to emphasize that we do not recommend I Am Resilient™ for children under the age of 11, or for those with sensitive skin.

I Am Resilient™ is helpful at minimizing minor inflammation, stimulating possible circulation, supporting the respiratory system as well as cooling minor burns.
More Details

Key Benefits
•  Eases neck and shoulder tension, soothes sore muscles, aroma stimulates a weary mind, cooling for muscles and the body mental stress relief, cooling for minor burns
Common Uses
•  Roll on the neck/shoulder area for a cooling sensation and to lessen feelings of stress or tension.
•  Roll on the spine/back or on the neck/shoulder area as a natural and proactive approach to cooling the body on hot days or when the body tends to be running warm.
•  Apply to sore joints for 100% natural aid.
•  Inhale the aroma to support normal breathing, as well as to stimulate and clear the mind.
Ingredients
•  Fractionated Coconut Oil, Peppermint, Lavender, Spearmint, Bergamot, Eucalyptus, Pine, Spike Lavender, Basil, and German Chamomile.
Cautions
•  Not for use during pregnancy or while nursing.
•  Take care to avoid eye exposure when applying.
•  Not for use on children.
•  If skin becomes irritated, discontinue use and apply an extra layer of carrier oil where I Am Resilient™ is applied.
Share
View full details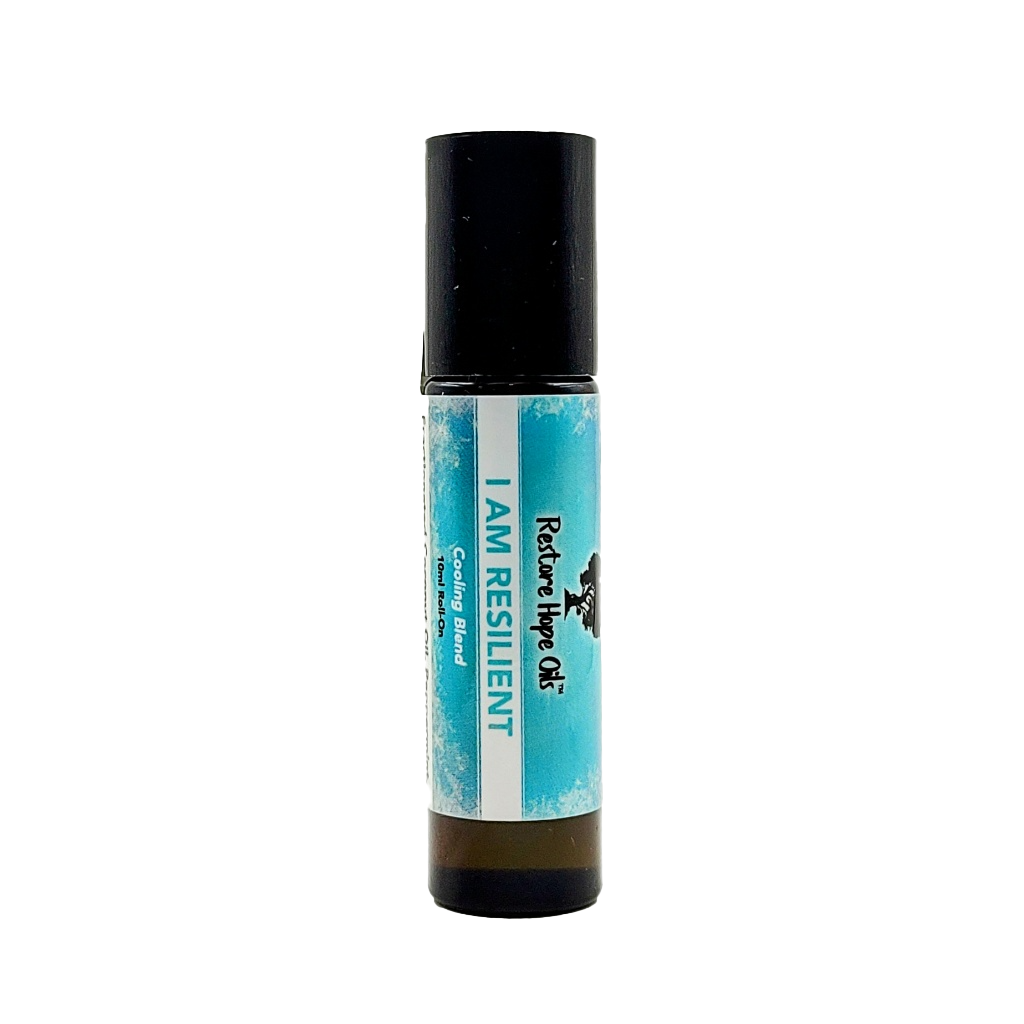 Collapsible content
Looking For A Specific Oil ?

> SEARCH HERE < - We have many essential oils to choose from. Enjoy a wide selection of singles and blends that may cater to your needs.