Restore Hope Oils
Regular price
Sale price
$27.95 USD
Unit price
per
Sale
Sold out
I Am Peace (Contentment Blend) was formulated with the intention of providing an uplifting aroma with a subtle emotional grounding effect to help minimize possible feelings of stress and anxiousness. Peace is more about an internal stillness and confidence.  I Am Peace has been developed with some of the most researched mood and brain support essential oils. I Am Peace was created to aid individuals on their journey to finding and experiencing greater contentment on a daily basis.
One aspect of why this blend can be so effective is Bergamot's ability to help uplift and calm simultaneously due to its chemical makeup.
More Details
Key Benefits
•  Uplifting with a gentle relaxation effect for both mind and body, promotes a feeling of optimism, grounding for emotions, helps to support normal lymph movement and immune function, encourages normal cortisol levels.
Common Uses
•  Apply over heart and abdomen areas to help calm possible feelings of stress and anxiousness.
•  Apply on the bottom of feet and/or chest at bedtime to aid a stressed or overworked mind.
•  Apply down the sides of the neck to encourage proper lymph drainage.
•  Apply to the neck/shoulder area and over the abdomen in a clockwise direction before a stressful situation to engender a feeling of reassurance.
•  Apply to wrists or neck for an uplifting citrus, floral aroma with gentle grounding earth essences.
Ingredients
•  Restore Hope Oils Fractionated Coconut Oil, Bergamot, Orange, Litsea Cubeba, Frankincense, Neroli, Elemi, and Ylang Ylang
 Complementary Oils
•  Frankincense, Copaiba, I Am Enough, Roman Chamomile, Lavender, Clary Sage, and other floral notes.
Cautions
Safe for most skin types. Some with sensitive skin may need to apply additional carrier oil to the skin before applying I Am Peace.
Share
View full details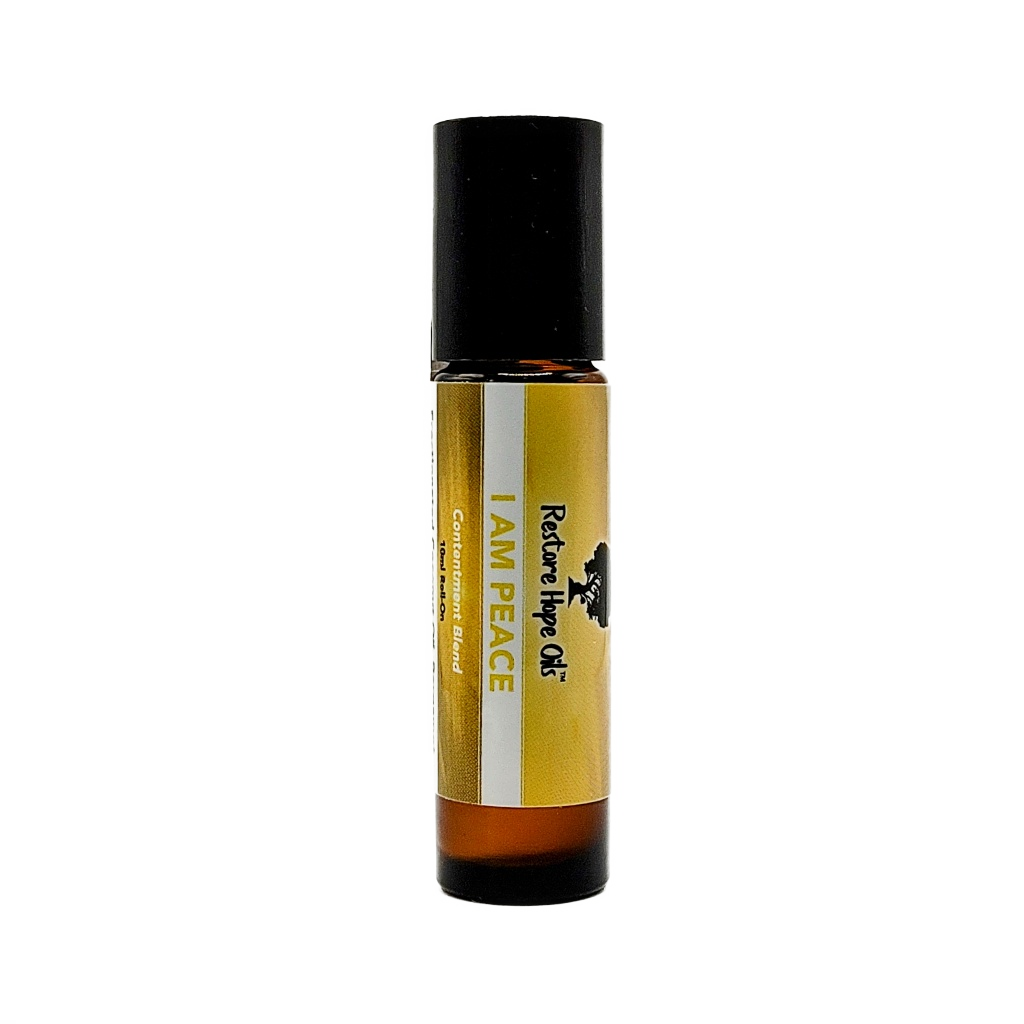 Collapsible content
Looking For A Specific Oil ?

> SEARCH HERE < - We have many essential oils to choose from. Enjoy a wide selection of singles and blends that may cater to your needs.