Restore Hope Oils
Regular price
$68.00 USD
Sale price
$62.00 USD
Unit price
per
Sale
Sold out
The Detox Duo Traditional contains our detoxification and liver support blends Liv-Better ™ and Pure Regen ™ together in the traditional euro dropper form. This Detox Duo Traditional allows for greater freedom of dilution and application. These essential oil blends when used together are designed to assist in supporting normal liver function, biliary tree, and lymphatic function. Both essential oils do not need to be used at the same time, but rather have been formulated to be used at different times of the day if so desired.
The

Detox Duo Traditional

 contains the following:
Liv-Better ™ was designed to help support normal liver function and biliary tree function. This blend can be a great bedtime topical application over the liver area to support the liver during sleep. The liver continues to be introduced to more toxins and stress because the general population is eating more processed foods and living more stressful lives. Non-alcoholic fatty liver disease continues to rise throughout the world. Liv-Better was created to support normal detoxification methods already performed by the liver.
Pure Regen ™ was formulated to support proper detoxification of the liver and lymphatic systems for daily life. Pure Regen ™ can be especially helpful when applied in the morning over the liver and spleen areas. Pure Regen ™ may aid those who engage in intermittent fasting. Applying Pure Regen ™ during intermittent fasting can also be a proactive approach to helping the liver and lymph systems function at their best. 
More Details
Key Benefits
• Gentle detoxification, liver health, gallbladder, and bile duct support.
• Support proper liver and spleen function, stimulate detoxification, and lymphatic flow.
Common Uses – When applying Liv-Better or Pure Regen 1 – 2 drops of essential oil combined with 1 pump of our Restore Hope Oils Fractionated Coconut Oil is a great place to start when deciding dilution amount. More or less carrier oil can be used based on what you and your healthcare practitioner decide.
• Apply the Liv-Better ™ and Pure Regen ™ over the areas or areas of concern, with additional dilution from a carrier oil of your choice.
• Apply Liv-Better ™ over the liver and gallbladder areas in the PM to support any repair that may happen during sleep.
• Apply Liv-Better ™ to the bottom of the feet or liver area before bed to aid as a gentle liver decongestant while you sleep.
• Apply Liv-Better ™ directly over the liver area for daily liver support.
• Apply Pure Regen ™ over the liver and digestive areas of the body as a daily  proactive approach to better health.
• Apply Pure Regen ™ in the AM over the liver and spleen areas when suspecting possible congestion.
• Apply Pure Regen ™ over the spleen and liver areas in the AM as a proactive approach to detoxifying and cleansing these areas of the body.
Ingredients
•  Mandarin, Rosemary, Geranium, and Helichrysum, in a base of Fractionated Coconut Oil
• Red Mandarin, Lemon, Coriander, Peppermint, Geranium, Fennel (Sweet), Rosemary, and Helichrysum in a base of Fractionated Coconut Oil (MCT oil).
Cautions
• Not suggested for use with children under 5.
• Pure Regen ™ is not suggested while pregnant or nursing, as Pure Regen ™ contains Peppermint.
• Talk to your Healthcare Practitioner before beginning any essential oil regimen.
For more uses on the specific oils in this duo, click on the links below:
Pure Regen ™, Liv-Better ™, Liv-Better ™ Bundle, Pure Regen ™ Bundle, Detox Duo Roll On 
Share
View full details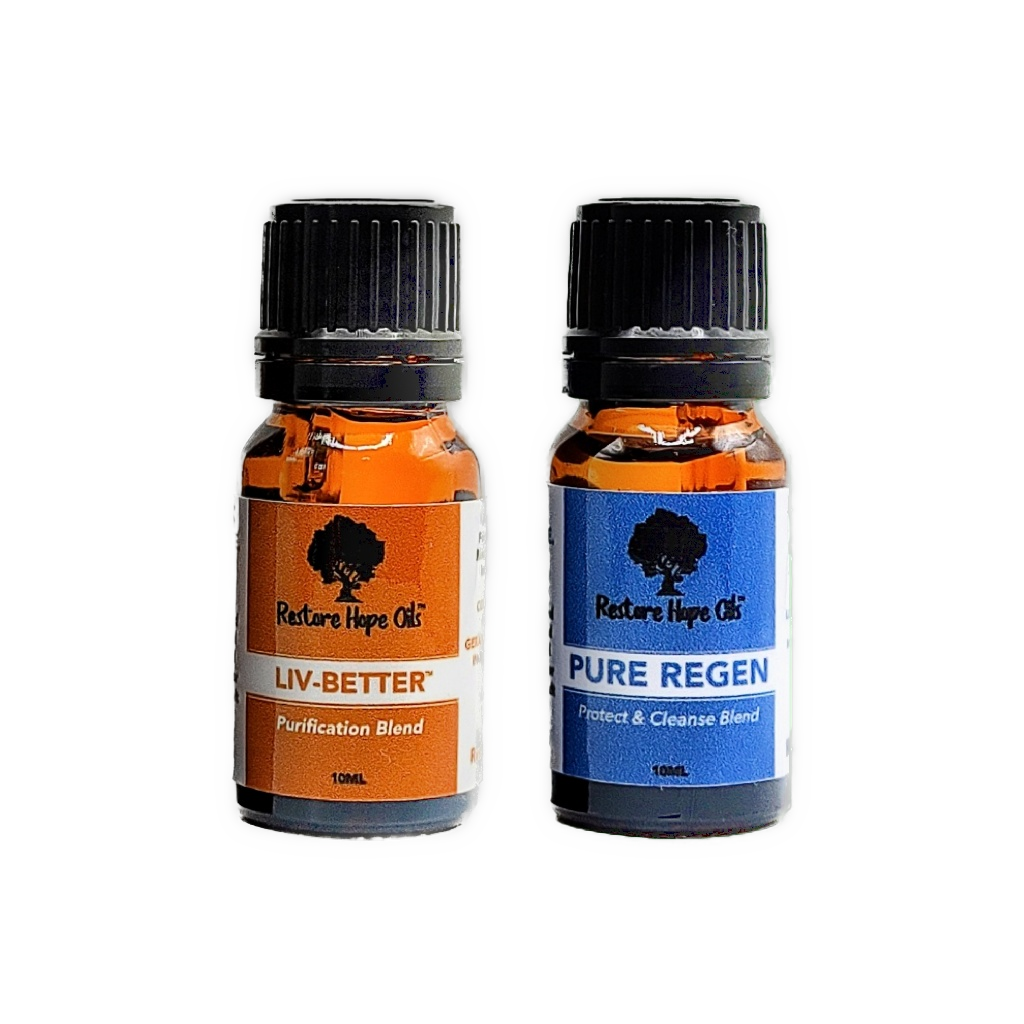 Collapsible content
Looking For A Specific Oil ?

> SEARCH HERE < - We have many essential oils to choose from. Enjoy a wide selection of singles and blends that may cater to your needs.