Restore Hope Oils
Regular price
Sale price
$43.90 USD
Unit price
per
Sale
Sold out
The Joyful Duo Roll-On Edition includes topical application ready roll-ons of two of our most popular blends, Pure Happy & Pure Embrace.
Designed to assist in improving mood and daily outlook collectively. Pure Happy has a more uplifting and energizing scent, while Pure Embrace has a more calming aroma with an ability to help minimize symptoms associated with PMS and possible hormone challenges.
Each of these essential oil blends can be kept in a pocket or purse for quick and easy application.
Both of these essential oils do not need to be used at the same time, but rather can be helpful for different situations. 
The

Joyful Duo Roll-On Edition

 contains the following:
Pure Embrace Roll On 
• Originally blended to assist with challenges associated with PMS. It has become more than a female cycling support blend. It is meant to aid emotional balance on a daily basis. When naming this blend, we had women tell us it could not be named a monthly blend as it was helpful for much more. This new Pure Embrace Roll-On Edition is pre-diluted for teen and adult use and can be applied without any additional carrier oil for most skin types. 
Pure Happy Roll On
Pure Happy in Roll-On form is a topical application ready version of the original Pure Happy! This amazing essential oil blend has a smooth, energizing, and sweet citrusy scent. It was formulated to provide an aroma that helps cleanse the mind and uplift the spirit. Pure Happy Roll-On has a light, clean scent to help when you may be experiencing a bit of a mental funk. Hence, it is called the Good Day Blend. 
Key Benefits 
PMS Symptom Support, General Hormone and Reproductive System Support, Helps to Calm Emotional Edginess, Minor Cramping Aid When Applied to the Lower Abdomen and Lower Back, Calming for Mind and Body. 
Common Uses
• Apply over the lower abdomen and lower back when experiencing minor cramping or to support general reproductive function.
• Women and Men may apply this oil to the bottom of the feet before bed to help support overall mood and sleep.
• Apply to bottom of wrists for a light floral perfume to help improve mood.
• Apply to the spine for general mood and mental balance.
Ingredients 
 Fractionated Coconut Oil, Clary Sage, Bergamot, Lavender, Geranium, Cypress, Ylang Ylang, Petitgrain, Neroli, and Jasmine
Cautions
• Do not use if pregnant or trying to get pregnant.
• Speak to your doctor before use if you are taking medications specific to hormones or hormone management.
• Not for use on children.
 Key Benefits
• Promotes Refreshing Feel, Lymphatic Support, strengthening to the Immune System, Brighten Mood, Cellular Support
 Common Uses
• Apply to neck and shoulders to help improve mood and enhance focus
• Apply to bottom of wrists with a hint of for an uplifting, light, and sweet perfume
• Apply Pure Happy to different lymph points on the body to support the lymphatic system.
 Ingredients
• Fractionated Coconut Oil, Lemon, Lime, Peppermint, and Balsam of Peru
 Cautions
•  Avoid UV rays on areas uncovered by clothing for 12 hours after applying topically. •  Not for use on young children.
For more uses on the specific oils in this DUO click on the links below:
Pure Embrace Roll On , Pure Happy Roll On
Share
View full details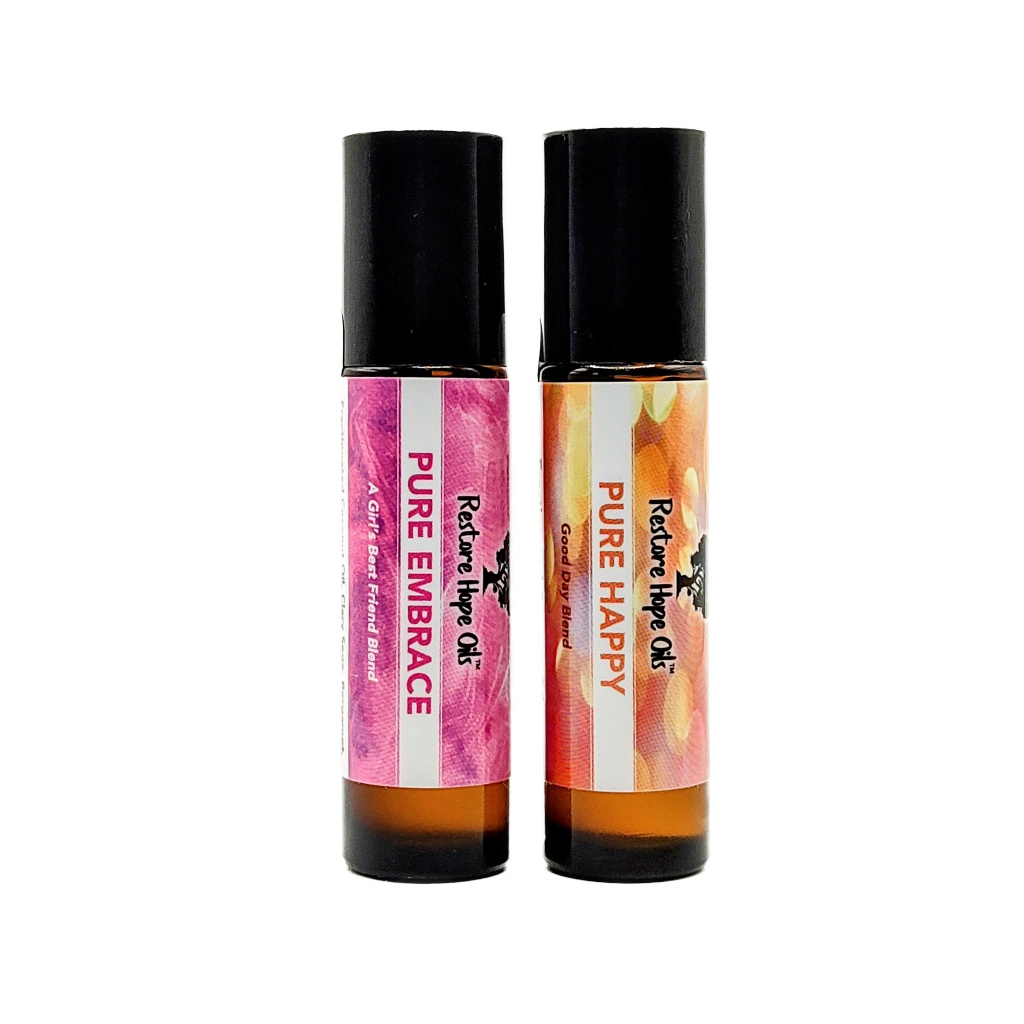 Collapsible content
Looking For A Specific Oil ?

> SEARCH HERE < - We have many essential oils to choose from. Enjoy a wide selection of singles and blends that may cater to your needs.