Restore Hope Oils
Regular price
$53.00 USD
Sale price
$47.50 USD
Unit price
per
Sale
Sold out
We created Mental Boost Trio for anyone who is looking for to stimulate mental function. The oils in this trio may provide support that energizes, purifies and relieves. The essential oils in this trio do not need to be used at the same time, but rather can be helpful for different situations. These are daytime use oils (AM) and generally should not be used within four hours of bedtime.
The

Mental Boost Trio

 contains the following: Peppermint

, 

Lime

, R

osemary
Possible Drop Ratio For A Diffuser:
Lime • 6 drops
Peppermint • 2 drops
Rosemary • 2 drops
More Details
Peppermint has been used since ancient times in China and Japan, but also throughout both Eastern and Western medicine for many different complaints.
Cautions:
• Do not put this oil near the face of children under 5 years old as it can be too strong for their developing lungs.
• Considered a sensitive oil always dilute with Restore Hope Oils Fractionated Coconut Oil.
Key Benefits:
• Digestive support, eases muscle and neck tension, relieves feelings of congestion, aids cognitive function, improves blood flow, stimulating for the lungs, anti-inflammatory capacity
Lime is one of our favorite citrus oils because of its versatility. It complements most other citrus oils and can energize, purify and relieve. 
Cautions:
 • Stay out of direct sunlight for 12 hours if applied topically
Key Benefits:
 • Cleansing for the mind and lungs, anti-inflammatory capacity, mentally energizing, uplifting for emotions, anti-catarrhal, antiseptic, antibacterial
Rosemary is one of our favorite oils because it can help so many different systems of the body. Its refreshing scent is revitalizing to the mind and respiratory system. It is a great oil to diffuse because of the ability to help clear the air of pathogens.
Cautions:
•  Do not use if you have epilepsy or tend to experience seizures.
•  Rosemary Cineole Essential Oil is generally non-toxic and non-sensitizing.
Key Benefits:
 •  Aids memory and cognitive function, supports liver detoxification, minimizes physical soreness, helps support normal respiratory system
For more uses on the specific essential oils in this trio click on the links below:
Share
View full details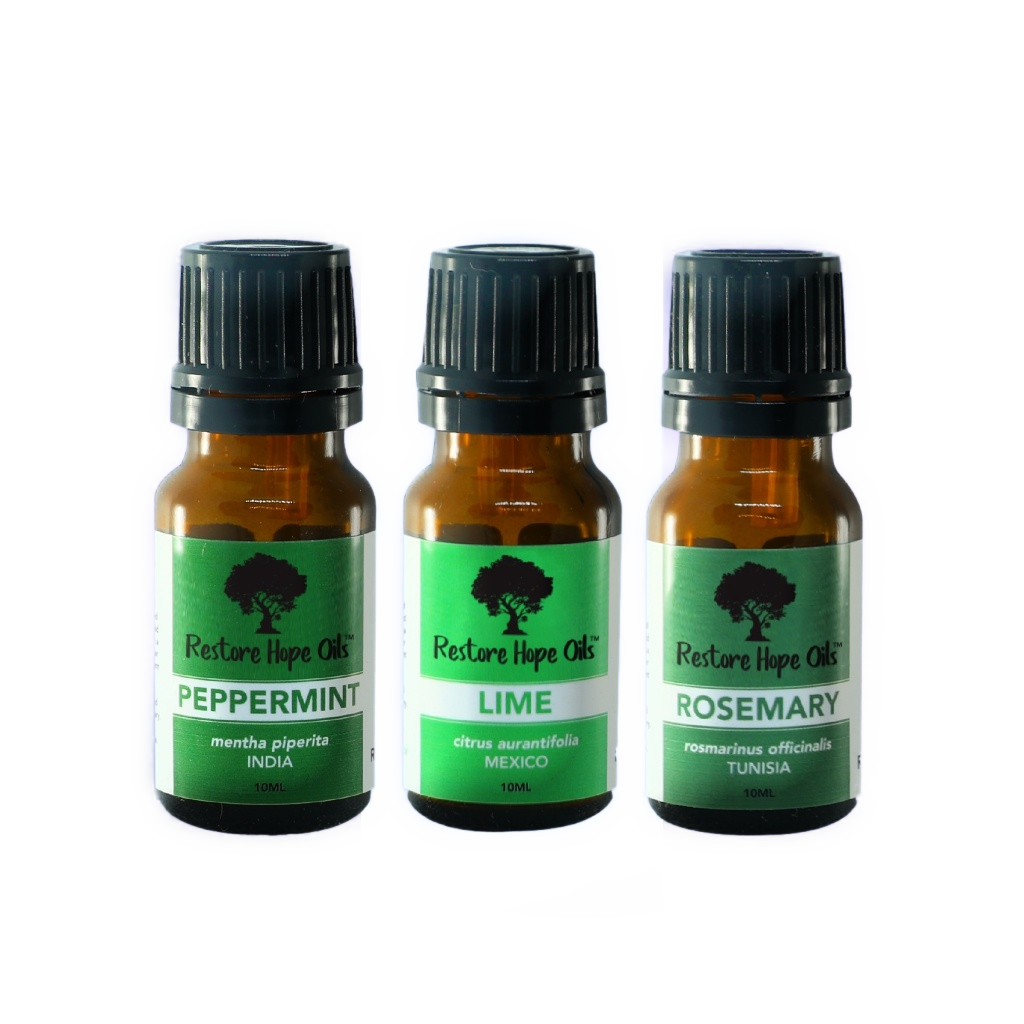 Collapsible content
Looking For A Specific Oil ?

> SEARCH HERE < - We have many essential oils to choose from. Enjoy a wide selection of singles and blends that may cater to your needs.